As promised, today is our first Behind the Blog interview.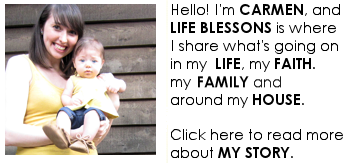 I've been a fan of
Carmen's blog
for sometime now. I really love how open and honest she is. I first started reading
Life Blessons
because I was interested in how
Carmen lives out her faith
. Reading her blog, brings me fresh inspiration and encouragement. As a fellow Christian, it's nice to feel that sense of community with other believers. Now, I also enjoy the glimpses of life as a new mother that she shares with us.
Read on to learn a little more about
Carmen
.
What do you do when you are not blogging?
My husband and I recently bought a
new house
so any spare time has been spent doing a lot of house projects, unpacking and decorating. We also spend a lot of time outdoors with my daughter, Claire, who loves being outside.
What inspired you to start a blog?
I started my blog soon after my husband and I married and moved to Atlanta where I didn't know anyone. Blogging was a way for me to find community and connect with people virtually at a time when it was difficult to do so in real life.
How did you choose your blog name?
It came to me in the middle of the night as I thought about the purpose I wanted for my blog: to document the blessings and lessons I was experiencing--my "Blessons."
What inspires you to keep writing?
Lately I have not had the time to do much writing, between moving and raising an active little girl. But I am most inspired to write lately because I know blogging helps me remember these moments of my young daughter's life and document them in a way I wouldn't have otherwise.
Is there one thing you want your readers to take away from your blog?
I hope they are encouraged. I never want my blog to feel judge-y or better or stir up envy; I want it to be a place that helps people, whether it's connecting in their faith, making it through some of life's hard times or even coming up with a recipe for dinner. If you dig through the archives there's a little bit of everything there.
7. Has blogging allowed you to do something really cool, that you wouldn't have done otherwise?
It's allowed me to connect with a lot of really inspiring and friendly women that I never would have known otherwise, and feel like we're friends even if we've never met and I love that. I have also gotten to try out some cool products to review on my blog that I likely wouldn't have otherwise, and that's been a fun perk, too.
8. What's your current obsession?
Decorating my house
and making it feel like "me." I have been enjoying the creative outlet and the results make me smile.
9. What are your goals for this year? For the next 5 years?
While setting up our house has taken up a lot of energy lately,
raising my daughter
and figuring out how to be a
God-honoring mom
to her is my ultimate goal. It is new territory and so difficult to cultivate when all she understands is wanting to go outside and play. But we are learning and so my goal would be to continue to home that and create a family where Christ's love and the Spirit's fruit are evident.
10. What was your most recent "Wow!" moment?
Probably something involving my daughter and how quickly she learns things. It keeps me in awe of her little, energetic mind and the God who created it. She is forever inspiring me and impressing me! I love watching her grow.
01 02 03